Download the NYC Open Restaurants FAQ in Arabic, Bengali, Chinese, French, Haitian Creole, Korean, Polish, Russian, Spanish or Urdu (pdfs).
Updated February 8, 2022
Who is eligible to apply to Open Restaurants?

Any food service establishment licensed by the NYC Department of Health and Mental Hygiene (DOHMH) which has business frontage on the ground floor.

When can my Establishment begin using outdoor dining?

As soon as Phase Two begins in NYC, outdoor dining will be legal, provided that restaurants follow the guidelines set by NY State and DOHMH. Establishments seeking to utilize additional public sidewalk or roadway space for outdoor dining operations must apply online at nyc.gov/openrestaurants and may commence upon self-certification.

I already have outdoor dining space, do I need to apply?

Types of outdoor dining which do not require NYC DOT approvals (but may require State Liquor Authority approvals) include:
Restaurants utilizing any privately owned outdoor space, such as front yards, side yards, rear yards or courtyards
Restaurants utilizing private parking lots
Restaurants utilizing balconies, terraces, or open air rooftop space
Restaurants on open air boats
My establishment is in a residential district, special district, or historic district where sidewalk cafes are not typically allowed, can I still apply?
Yes, you can apply. See terms and conditions in the Open Restaurant application for further details.
Can I apply if I'm on an Open Street?
Yes, establishments that are currently on an Open Streets may apply for sidewalk and/or roadway seating. To view all Open Street locations visit nyc.gov/openstreets
Is there a fee to apply to Open Restaurants?
The City does not charge any fees to apply to the program.
Do I need insurance?
Yes, the City recommends you consult your insurance broker to make sure you have the appropriate coverage for the additional seating areas.
What is the duration of Open Restaurants?
Roadway seating and sidewalk seating has been extended through 2021, with a permanent program in development.
Can my barriers and furniture remain in the roadway when I'm not in operation?
Yes, except when the curb lane functions part-time as a moving lane, roadway seating area may be closed to vehicles and barriers, and may remain in place 24/7 for the duration of the program. Tables and chairs must be removed or secured in place when not in use. For part-time moving lanes, all barriers and furniture must be removed during the period the curb lane functions as a moving lane.
Is the seating exclusive to my business and can I serve food?
Yes, seating is exclusive for your business and table service is allowed.
Can I serve alcoholic beverages in the outdoor dining area?
Yes, if you are licensed by the State Liquor Authority and submit all appropriate documents.
Can I use the seating area for performances or other types of activity?
No. The program is for outdoor dining only at this time.
Are street vendors allowed to use the curb lane or sidewalk?
Yes, as long as they comply with all applicable vending laws and rules, and all health guidance.
Is Open Restaurant Seating ADA accessible?
Yes, the City requires all Open Restaurant seating to be ADA compliant. Visit MOPD's Small Business Resources page for guidance.
How does the Alternate Side Parking ("ASP") regulation impact seating in the roadway and what do I do if there are utility covers in the seating area?
ASP spaces are available for Open Restaurant use, provided all other requirements are met. By participating in the program, you are taking responsibility for maintaining the cleanliness of the roadway curb space in front of your business. Curbside drainage and access to and ventilation of utility covers must not be impeded, and at all times, the seating area must be in a clean, neat and safe condition.
Can I use elements besides furniture, barriers, and ramps?
Yes, umbrellas with a weighted base or tents or other shelters, not to exceed 400 SF in total or fully enclose the seating area, which follow manufacturers installation instructions to secure the tents properly and safely are allowed on authorized sidewalk and roadway seating areas but may not extend past the barrier or obstruct access to or ventilation of utility covers. Areas of multiple tents that are combined or are tied to each other cannot exceed 400 SF in total. Umbrellas and tents should not be used during inclement weather such as high wind condition.
Structures or additions of any kind may not be bolted down or drilled into the roadway or sidewalk.
Structures, tents or umbrellas may not block any right of way signs or street regulation signs.
Platforms may not be installed on sidewalks, but may be installed in authorized roadway seating areas behind the required barrier to flush height with curb to facilitate ADA compliance, prevent the curb from becoming a tripping hazard, and allow drainage to underpass seating. Such platforms shall not block rain water drainage getting to the curb or flowing along the curb and shall not obstruct access to or ventilation of utility covers. Refer to NYC DOB's 2021-005 Bulletin for information about when permits are required for reopening restaurants and bars (issued May 28, 2021)
Can I use the plaza in front of my business?
Restaurants can work with their local BID and NYC DOT to request additional seating in plazas by emailing Plazas@dot.nyc.gov.
Can I apply for roadway seating if there is a bus stop or bike lane in front of my business?
Roadway seating may not be placed in a bus stop, bike lane, taxi stand, Car Share parking space, painted curb extension or expanded sidewalk, designated buffer zone (area with white markings separating a bike or parking lane from a travel lane), or vehicular moving lane.
Roadway seating may be set up in a bus lane as long as all barriers, seating and ramps are removed during the hours No Standing is in effect (more in FAQ 24).
Roadway seating may be set up in a floating parking lane in front of an approved business per the diagram below.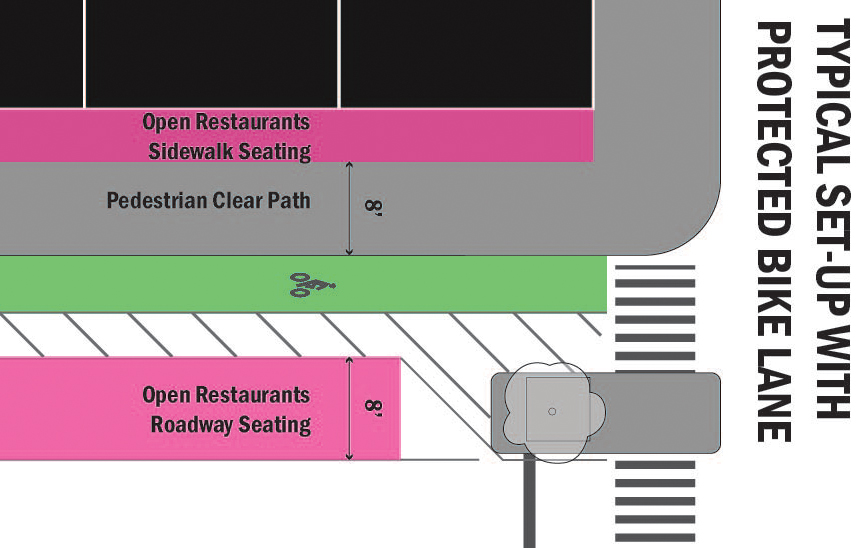 What if something is already installed on the sidewalk and/or curb lane in front of my establishment, such as a bike corral or Citi Bike station?
The City will not remove nor relocate street furniture or trees. If a Citi Bike station is installed in the curb lane, roadway seating may not be set up. Additionally, the establishment cannot remove any City property already installed on the sidewalk and/or curb lane in front of their establishment. Such removal by the establishment may result in a fine.
Can I add lighting to seating areas?
Yes, provided lighting is not blinding to passing traffic and complies with NYC Fire Department Open Flame and other applicable Fire Codes, and Department of Building's (DOB) Electrical Codes relating to outdoor wiring. Lights may not be attached to trees without a permit from The Department of Parks and Recreation (NYC Parks). Additionally, NYC street light wiring may not be used to connect any external power or lighting source.
How do I know if the curb lane in front of my business is eligible for Open Restaurants?
Here is a list of the different street signs and whether they indicate if your curb lane is eligible for Open Restaurants:
No Parking Anytime
Yes. You may use the roadway for dining if this is the sign in front of your business.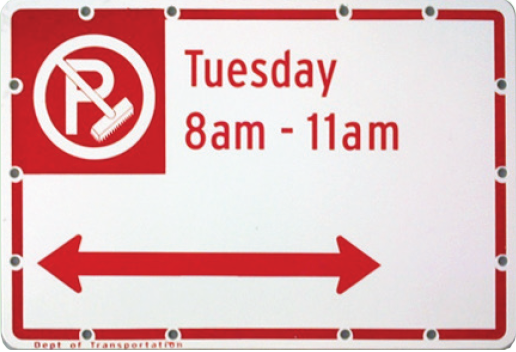 Alternate Side Parking
Yes. You may use alternate side of the street parking spaces in front of your business for outdoor dining.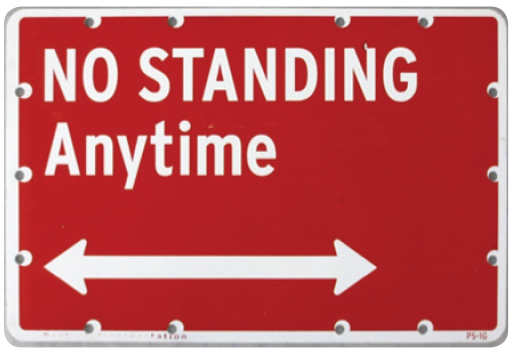 No Standing Anytime
No. You may not use the roadway in front of your business if there's a No Standing Anytime sign.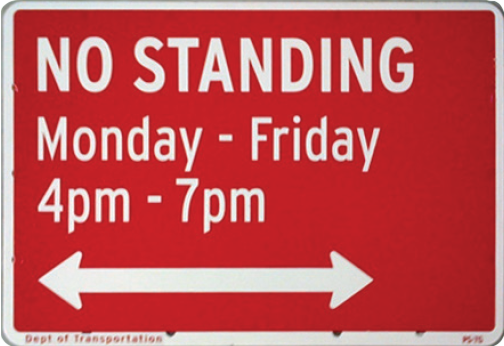 No Standing During Specific Days/Hours
Yes with restrictions. You may use the roadway space during the hours No Standing is not in effect. You must remove all barriers, seating and ramps during the hours No Standing is in effect.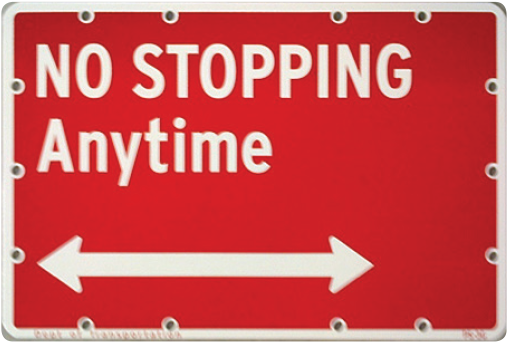 No Stopping Anytime
No. You may not use the roadway in front of your business if there's a No Stopping Anytime sign.
Bus Stop
No. You may not use the roadway in front of your business if it's in a bus stop.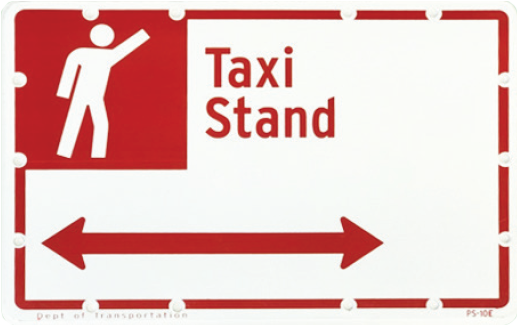 Taxi Stand
No.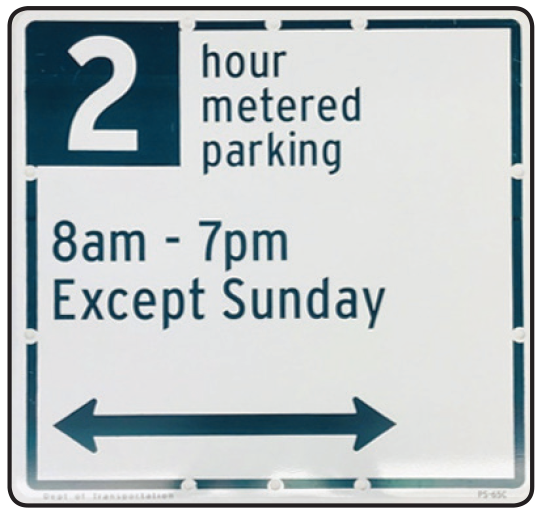 Metered Parking
Yes. You may use the roadway in front of your business.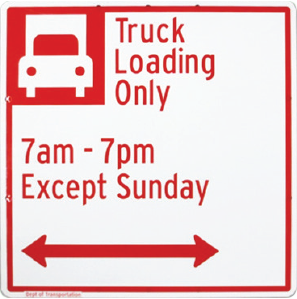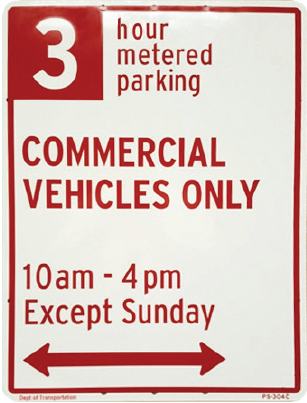 Truck Loading Only & Commercial Vehicles Only
Yes. You may use the roadway in front of your business.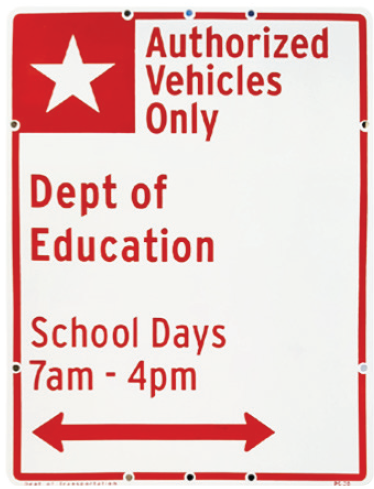 Authorized Vehicles Only
Yes with Restrictions. You may use the roadway during the hours not included on the sign. Some parking spaces are reserved all the time for Authorized Vehicles and those spaces may never be used by your business. All barriers, seating and ramps must be removed during the hours listed on the sign.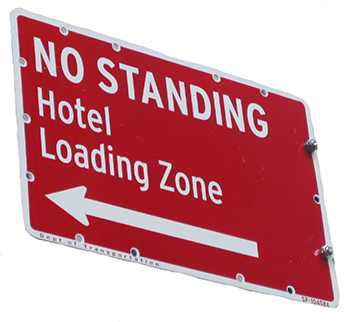 No Standing Hotel Loading Zone
Yes with Restrictions. You may use the roadway if you are the hotel or an establishment associated with the hotel and have the hotel's permission.
Can I set up tables on both sides of my very wide sidewalk as long as there is an 8-foot pedestrian pathway between?
No, you may only utilize the sidewalk space alongside your storefront and/or the parking lane in the roadbed for seating. Eight feet (8') is the MINIMUM requirement for a pedestrian pathway. See Siting Criteria image for reference.
My ground floor restaurant has two frontages, as it is on the corner or is an L-shaped store, how do I indicate Total Length (ft)* and Total Width (ft)* of outdoor dining dimensions on the Open Restaurants application?
Add the length of both sides to answer Total Length (ft)*. Your width should be the same on either sides, so to answer Total Width (ft), use that footage.
I am filling out the SLA requirements on the Open Restaurants application. What is the Name of Certificant, and is it different from the Licensee?
Yes, they are different. The certificant is the owner of the business who is on the liquor license and the licensee is the business name.
When will my restaurant be inspected and by whom?
NYC DOT inspectors will make both proactive and complaint-driven visits. NYC Parks may also conduct both proactive and complaint-driven tree inspections, which typically do not require interaction with the business owner.
I was told to remove my roadway seating due to non-compliance. I've fixed the issue, how can I get approval to proceed?
Within 24 hours of receiving notice of non-compliance, you must send a photograph of the corrected deficiencies to NYC DOT. NYC DOT will assess if the correction is sufficient and confirm reauthorization.
Will I be fined $1,000 without a warning?
It is the applicant's responsibility to comply with the terms and conditions required by the City of New York's Open Restaurants program. Failure to comply increases your risk of receiving notice to remedy the deficiencies within 24 hours. If you fail to comply after such notice, the City will actively enforce all laws and rules, including but not limited to those that protect its rights of way and ensure the safety and service provided by the City's rights of way, and may include a $1,000 fine.
Can I place seating on the sidewalk adjacent to the curb in the 'amenity zone'?
No, sidewalk seating is only permitted directly adjacent to the building façade provided an 8' clear path to the curb is maintained. Structures of any kind are not permitted in the amenity zone.
Is smoking allowed in outdoor dining areas?
No. Smoking and electronic cigarette use is not allowed in outdoor dining areas. Vaping and hookah smoking is not allowed.
Are heating elements allowed?
Yes, the City will allow restaurants to incorporate heating elements in outdoor dining setups during New York City's "heat season," which generally starts in October until the following May. Heating elements shall be placed at least five feet (5') from the trunk or branches of City trees.
Participants in the Open Restaurants program interested in providing comfort heating for their customers in outdoor dining areas have two options:
Propane heaters are no longer allowed
The Department of Small Business Services will be providing grants up to $5,000 for restaurants with annual revenue of $1 million or less, which may be used to swap out propane heaters for either electric or natural gas radiant heaters.
May I prepare, cook or warm food in my outdoor dining areas?
No. No cooking, barbeque, nor open flames (i.e. ethanol gel chafing fuel) are allowed in roadway nor sidewalk seating areas.
Under what circumstances will we need to move or remove an outdoor structure in the street, for example to accommodate snow removal, tree work, or construction?
All roadway and sidewalk seating elements must be removed when a city agency, utility company or other contractor needs to access the space for installation or repair. This includes tents, barriers, tables, chairs, portable heaters, etc.
In addition, some roadway seating elements need to be removed during a snow alert when roadway dining is suspended.
Roadway and sidewalk seating elements may need to be removed for routine or emergency tree work. Little advance notice will be provided for emergency work.
What if there is a tree in the sidewalk adjacent to my restaurant?
Dining elements may not cover, shade, come in contact with, or be located within one foot (1') of City trees. Rainwater runoff from dining elements may not be caused to discharge directly into a tree bed. Runoff from cleaning may not be discharged or allowed to flow into a tree bed.
The following are prohibited without a permit from NYC Parks:
Tree removal
Tree pruning
Attaching lights or other materials to trees
Constructing any structure within or over a tree bed
Tree damage or unpermitted tree work may be subject to violations and fines.
To request a permit, please visit: nycgovparks.org/services/forestry/tree-work-permit.