Staten Island Ferry Schedule
Weekday departures every 15 minutes at peak times during the morning and evening rush hours.

From St. George:

5 - 6 AM - Every 30 minutes
6 - 7 AM - Every 20 minutes
7 - 9 AM - Every 15 minutes

From Whitehall:

4 - 5 PM - Every 20 minutes
5 - 7 PM - Every 15 minutes
7 - 8 PM - Every 20 minutes

All passengers must wear face coverings at all times within Staten Island Ferry terminals and aboard the ferry, due to Governor Cuomo's Executive Order.

Lower Level Boarding closed. People using wheelchairs and people with bicycles must continue to board on the lower level, please enter near the security booth.

Staten Island Ferry terminal restrooms will be open daily from 5 AM to 10 PM. Beginning November 30, terminal restrooms will remain open until 1 AM. Restrooms (heads) are closed on all ferry boats.

Passenger Service window inside St. George Terminal is open:

Tuesdays 8 AM - 12 PM
Thursdays 12 PM - 4 PM

COVID-19 testing is offered at the St. George Ferry Terminal next to the North Shore Esplanade exit. Testing is available every day between 9 AM and 7 PM, no appointment needed.
Service is free. Travel time in either direction between St. George and Whitehall is approximately 25 minutes.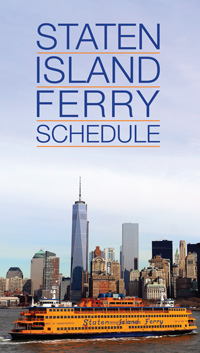 Please note: all schedules are subject to change without notice. For periods of reduced visibility or heavy weather, schedule may be adjusted.
For service updates, sign up for Staten Island Ferry email notifications, like the Staten Island Ferry on Facebook, follow NYC DOT on Twitter or contact NYC311.
Subscribe to Notify NYC for Staten Island Ferry service updates, information about emergency alerts and important city services.
Holidays: The ferry operates on the weekend schedule in observance of the following holidays: New Year's Day, Martin Luther King, Jr. Day, Presidents' Day, Memorial Day, Labor Day, Thanksgiving Day and Christmas Day.
Staten Island Ferry Schedule Effective July 6, 2020
Departing St. George Terminal (Staten Island)
Weekdays
Weekends
AM
PM
AM
PM
12:00 AM
12:00 PM
12:00 AM
12:00 PM
1:00 AM
12:30 PM
1:00 AM
12:30 PM
2:00 AM
1:00 PM
2:00 AM
1:00 PM
3:00 AM
1:30 PM
3:00 AM
1:30 PM
4:00 AM
2:00 PM
4:00 AM
2:00 PM
5:00 AM
2:30 PM
5:00 AM
2:30 PM
5:30 AM
3:00 PM
6:00 AM
3:00 PM
6:00 AM
3:30 PM
7:00 AM
3:30 PM
6:20 AM
3:50 PM
7:30 AM
4:00 PM
6:40 AM
4:10 PM
8:00 AM
4:30 PM
7:00 AM
4:30 PM
8:30 AM
5:00 PM
7:15 AM
4:50 PM
9:00 AM
5:30 PM
7:30 AM
5:10 PM
9:30 AM
6:00 PM
7:45 AM
5:30 PM
10:00 AM
6:30 PM
8:00 AM
5:45 PM
10:30 AM
7:00 PM
8:15 AM
6:00 PM
11:00 AM
7:30 PM
8:30 AM
6:15 PM
11:30 AM
8:00 PM
8:45 AM
6:30 PM
8:30 PM
9:00 AM
6:45 PM
9:00 PM
9:30 AM
7:00 PM
9:30 PM
10:00 AM
7:30 PM
10:00 PM
10:30 AM
8:00 PM
10:30 PM
11:00 AM
8:30 PM
11:00 PM
11:30 AM
9:00 PM
9:30 PM
10:00 PM
10:30 PM
11:00 PM
Departing Whitehall Terminal (Manhattan)
Weekdays
Weekends
AM
PM
AM
PM
12:30 AM
12:00 PM
12:30 AM
12:00 PM
1:30 AM
12:30 PM
1:30 AM
12:30 PM
2:30 AM
1:00 PM
2:30 AM
1:00 PM
3:30 AM
1:30 PM
3:30 AM
1:30 PM
4:30 AM
2:00 PM
4:30 AM
2:00 PM
5:30 AM
2:30 PM
5:30 AM
2:30 PM
6:00 AM
3:00 PM
6:30 AM
3:00 PM
6:30 AM
3:30 PM
7:30 AM
3:30 PM
6:50 AM
4:00 PM
8:00 AM
4:00 PM
7:10 AM
4:20 PM
8:30 AM
4:30 PM
7:30 AM
4:40 PM
9:00 AM
5:00 PM
7:45 AM
5:00 PM
9:30 AM
5:30 PM
8:00 AM
5:15 PM
10:00 AM
6:00 PM
8:15 AM
5:30 PM
10:30 AM
6:30 PM
8:30 AM
5:45 PM
11:00 AM
7:00 PM
8:45 AM
6:00 PM
11:30 AM
7:30 PM
9:00 AM
6:15 PM
8:00 PM
9:15 AM
6:30 PM
8:30 PM
9:30 AM
6:45 PM
9:00 PM
10:00 AM
7:00 PM
9:30 PM
10:30 AM
7:20 PM
10:00 PM
11:00 AM
7:40 PM
10:30 PM
11:30 AM
8:00 PM
11:00 PM
8:30 PM
11:30 PM
9:00 PM
9:30 PM
10:00 PM
10:30 PM
11:00 PM
11:30 PM